Vision.
TURN
the art of reuse into a constitutive know-how of French cultural excellence.
Mission.


SUPPORT professionals in the cultural and creative sector by helping them to incorporate the reuse of materials and eco-design in their production processes. whether for events or small series.

Reason for being.


REDUCE the ecological footprint of culture and creation by re-inventing creative processes.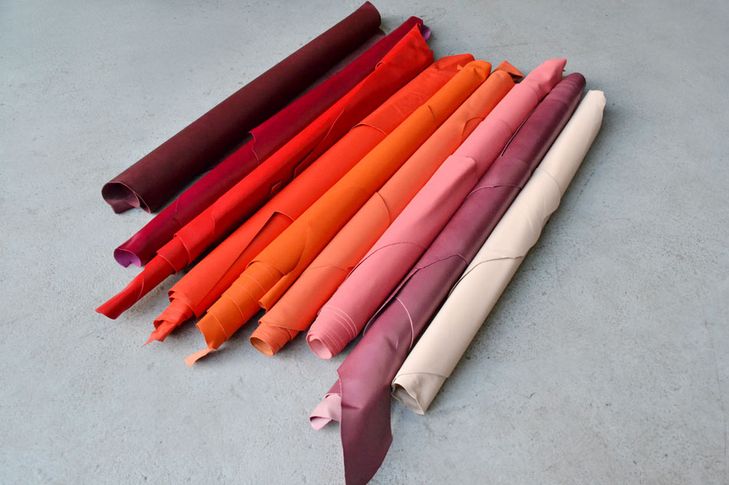 Story.
FOUNDRESSES.
Originally, two enthusiasts about contemporary art and ecology pursue the same objective, ACTING FOR THE ENVIRONMENT WHILE SUPPORTING THE SECTOR OF ARTISTIC CREATION.
Sylvie BETARD studied photography and contemporary art theory. At the time, her researches focused on the links between environment and Scandinavian photography.
Jeanne GRANGER graduated from an art school in the UK. She has worked among others on the professionalization of the cultural sector by organizing conferences and seminars at the CIPAC.
ENCOUNTER.
In 2008, Sylvie and Jeanne met around Project K, at the Krajcberg space of the Montparnasse museum. Strucked by the sculptor Krajcberg's commitment to the environment, they set up an awareness program on relations between contemporary art and ecology.
The conferences and exhibitions organized allow artists and environmental specialists to meet and discuss.
Sylvie and Jeanne then make the double observation :
- on one hand, companies are trying to get rid of their waste.

- on the other hand, creative professionals constantly need secondary raw material to carry out their works and projects.
They decided to found an orignal structure to bring together both actors : LA RESERVE DES ARTS.
"LA RESERVE DES ARTS WANT TO FULLFIL MATERIAL NEEDS FOR ARTISTIC CREATION; TO BE A PLACE OF INSPIRATION FOR PROFESSIONALS AND A COMMUNITY TO EXCHANGE SKILLS.", Sylvie BETARD
INTENTIONS.
Sylvie and Jeanne want to support cultural production in every artistic disciplines.
They learn about MATERIALS FOR THE ART, a New-York non-profit organization that collects materials for culture and education.
The duo decide to adapt the idea to France and set it up in the Ile de France region ( Paris area ).
"ECOLOGY IS NOT A UNIQUE SOLUTION TO A UNIQUE PROBLEM. IT IS A COMBINATION OF INNOVATIONS, SMALL STEPS, THAT RESPOND TO SEVERAL CONCRETE PROBLEMS." Jeanne GRANGER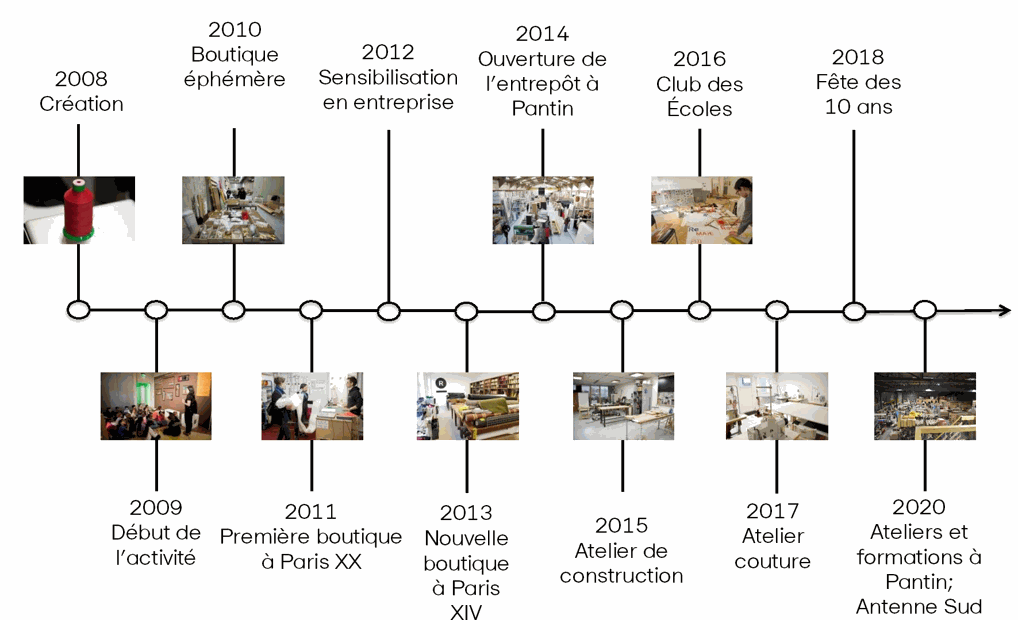 Philosophy.

ARTISTIC CREATION = INNOVATION.
As an interface between creators and the business world, LA RESERVE DES ARTS acts to generate a virtuous circle of circular economy in favour of culture and creation.
Through their reuse techniques, creators give a second life to material considered as waste by companies. This cultural eco-production, concerned by environmental issus ans sustainable development, helps to professionalize reuse techniques and to relocalize productions.
WASTE = RESOURCES.
Waste is often poorly handled, and managed linearly.
LA RESERVE DES ARTS is a moving force for re-establishing a virtuous loop, that allows the waste collected to find a second life on an individual or collective scale through the culture and creation sector.
DEVELOPEMENT = EXPERIMENTATION.
LA RESERVE DES ARTS believe that by becoming a meeting place for talented person working in the field of culture and creation, it will be able to assist the needed consumption habits's paradigm shift.
By bringing together Students, Professionals and Large companies working in culture and creation, It combines different skills. It collaboratively tests new innovative circular economy projects for culture.
Whether it is in terms of logistics, waste prevention or professionalization of reuse techniques, LA RESERVE DES ARTS aim to be a laboratory to try new solutions.
SUSTAINABLE = SOLIDARITY.
The invention of a more sustainable world necessarily requires enhancing solidarity and exchanging skills.
For this reason, LA RESERVE DES ARTS promotes social cohesion
within its community of
members
to always find more solutions and ensure their optimum circulation, while respecting the diversity of profiles.
The permanent exchanges created around the recovery of materials are gradually updating new reuse techniques. By fostering them without passing any judgment on the works, LA RESERVE DES ARTS wants to boost all forms of creativity.
CONSTRAINT = OPPORTUNITY.
Waste constraints like storage, logistics, public health, are numerous and can be a burden for companies.
However, LA RESERVE DES ARTS sees in these constraints as many opportunities to think about new solutions whose implications go well beyond the only domain of waste management.
They are an opportunity to invent a more circular economic system where materials are valued and reused endlessly. They invite us to rethink our consumption patterns, to consider other development directions and more responsible lifestyles. In short, they invite us to operate necessary and considerable societal changes.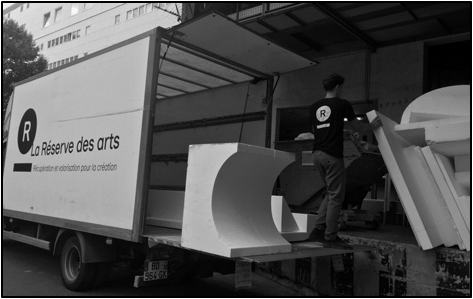 Collect.
Raise awareness in the long run by collecting reusable waste from businesses and cultural institutions.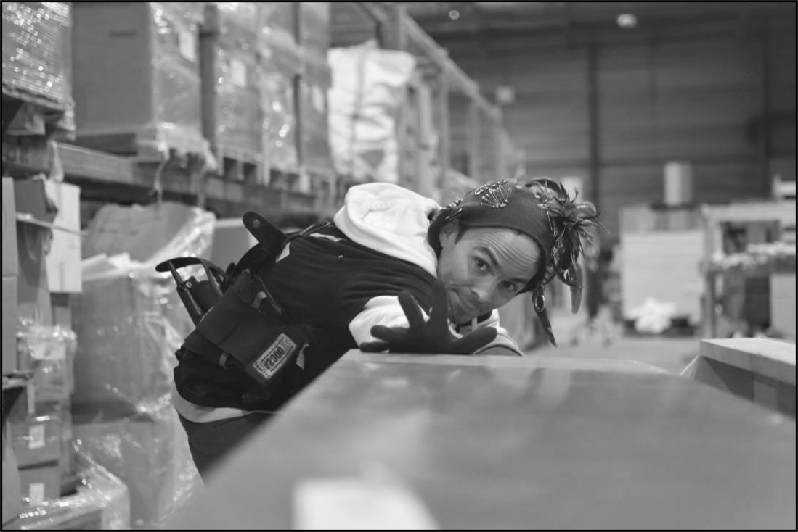 Recover.
Sort, weigh, inventory, stage the collected materials to turn them into real new creative mediums

.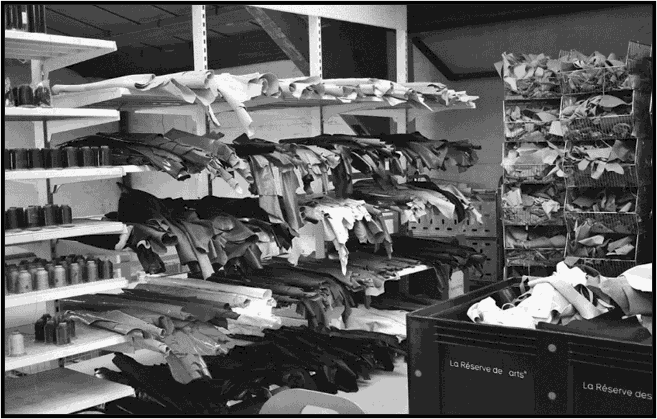 Redistribute
Present and sell the materials collected in our associative stores («L'Entrepôt» at Pantin, « La
Boutique » in the 14th arrondissement, and « La Grande Halle » in Marseille).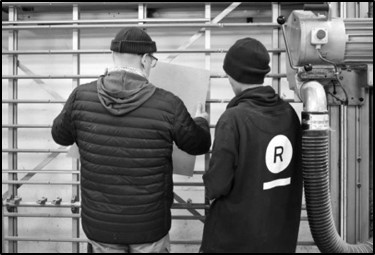 Train.
Help members to professionalize themself, initiate students, employees of companies and cultural institutions in waste prevention.
Share sustainable and responsible manufacturing techniques, act as a guide in the cultural entrepreneurship of reuse.
Prizes & awards.
2010 . CréaRîF prize "Entreprendre Autrement : Eco-innovation".
2013 . Laureate of "Paris Durable" year group.
2014 . ESS trophy of the city of Paris.
2016 . Call for projects "Cap sur l'économie circulaire".
2017 . "Est Ensemble" trophy for social and solidarity economy.
2018 . Winner of "l'Accélérateur ESS" of the Ile de France region.
2019 . Winner of Paris Fabrik.
2019 . National Monuments incubator for circular economy.
2021 . Lauréat 2020 du Prix IFCIC Entreprendre dans la Culture